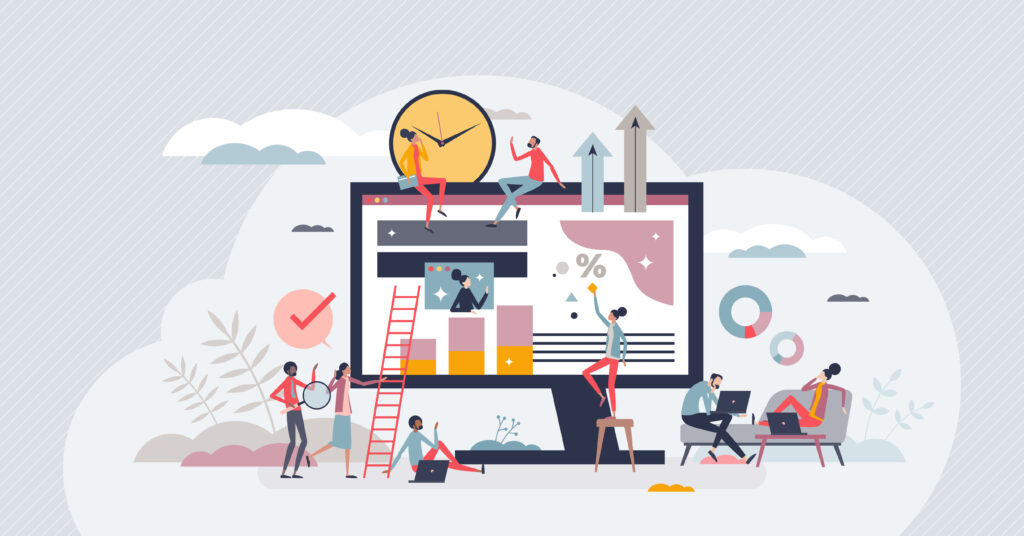 Success Factors for Teams in Hybrid Work Environments
How We Combine The Best of Both Worlds in a Meaningful Way
Dominik Bachmair
Come to stay. Hybrid is the new normal
Before the pandemic, working in the office was normal. During the pandemic, home office was our normal. And now it's both. We call it hybrid working: we do one part in the office and the other part flexibly and remotely. This poses major challenges for all companies. While no one wants to give up the benefits of virtual and flexible working, everyone realizes that it doesn't work without a physical presence either. So how do we shape the new hybrid working world to harness the benefits?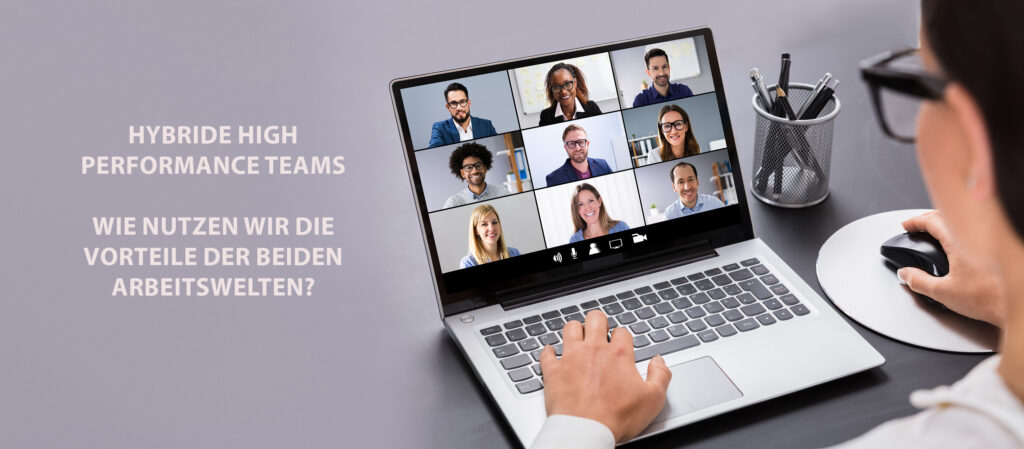 Everything Starts with the Right Question
Most companies are discussing one question right now: how many days do employees need to be in the office? 2 days? 3 days? Flexible? We think this is the wrong question. After all, what's the point of having employees in the office, but locked in and only participating in video conferences? Nor is it helpful if everyone is flexible, but this means that collaboration no longer takes place. The question must be different: for which activities is face-to-face work better suited and when are virtual and flexible working models better suited and applicable? And how do teams solve the challenges of the hybrid world?
4 Challenges in Hybrid Working Environments
Challenge Connectedness: Remote work has a negative impact on our sense of belonging and can weaken team identity. As a result, turnover can increase. Hybrid High Performance Teams spend sufficient time and work specifically on relationship and trust.
Challenge Coordination: As we are less often together in one place, the organization of collaboration within the team and with key stakeholders becomes more difficult. Hybrid high performance teams work much more methodically.
Challenge Complexity: The flexibility of hybrid working increases complexity in the organization. This is especially true for communication. Today, there are many more channels, formats and target groups. Teams get lost in the possibilities. Hybrid high-performance teams therefore have a clear communication set-up.
Ego Challenge: Hybrid working promotes concentration on individual interests. One's own work-life balance becomes important at the expense of the team's interests. Hybrid high performance teams therefore have a clear business focus and a framework for action.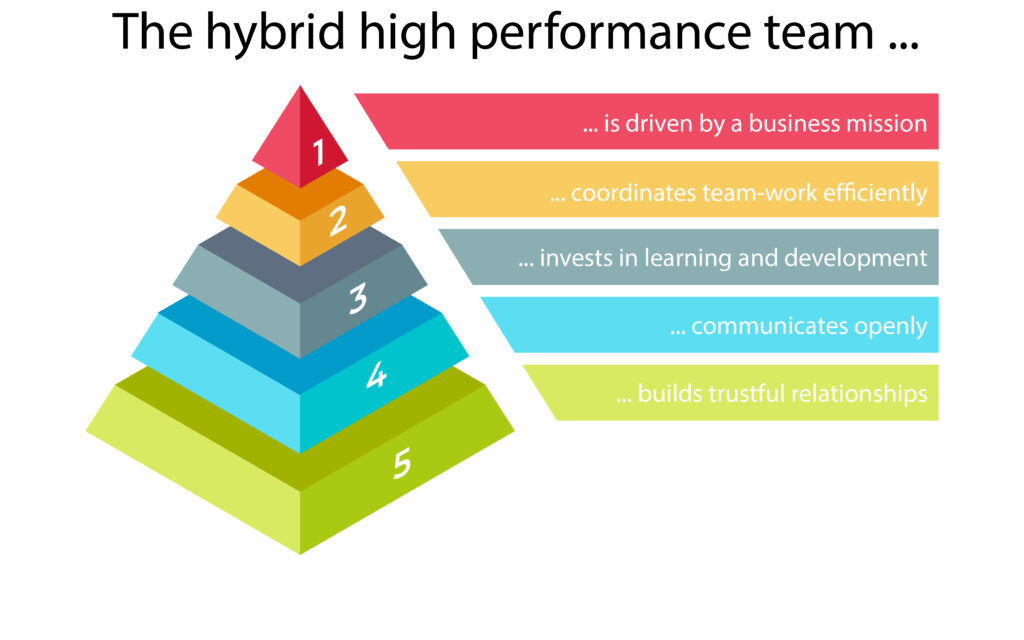 What do Hybrid High Performance Teams do differently?
… driven by a business mission. In hybrid work environments, teams work more flexibly and decentrally. To prevent a team from falling apart, it needs a clear framework for action. This consists of a common mission, clear priorities, team goals and individual goals.
… coordinates team-work efficiently. Hybrid High Performance Teams do the right things in the right set-up. They have regular face-to-face meetings, especially for strategy work, goal setting, team building and feedback. For everything else, they use virtual meetings, but they are very efficient and always focused.
… invests in learning and development. The hybrid working world is new. We all have a lot to learn. Hybrid high-performance teams don't design learning as a hobby, but pursue it professionally. They have team retrospectives 2-4 times a year, they know the future competencies relevant to them and develop them in a targeted manner, and they learn to deal with the challenges of the hybrid world together.
… communicates openly. Transparency and feedback are central to the success of a team. Virtual communication platforms offer a variety of opportunities to share important information. Feedback is institutionalized methodically and with tools.
… builds trustful relationships. Hybrid High Performance Teams recognize that their success is also due to the quality of the relationship. They therefore invest specifically in trust building and team building. More often than before, they meet off-site to work on themselves.